FIELD BOOTS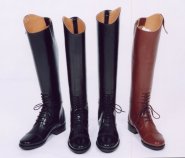 Talk about quality for the price! These Field Boots are truly a product which are a source of great pride.... .
I can tell you that the boots are constructed using Goodyear welts and TPR outsoles on American lasts.
"Goodyear welts" means the soles are stitched to the boot using the best means of bootmaking. (not to be technical, but there is an extra piece the soles and uppers are stitched to...)
And the "American lasts" means the last step in bootmaking (where the boot is formed and attached to the sole) is done using forms of standard American sizing.
In addition, the uppers are 100% full grain leather, with 100% one piece leather linings which extend all the way into the foot. This means they are long lasting, stretchable, and comfortable. I have been told by boot repair shops that our boots lend themselves especially well to adjustments due to the quality of construction.
We have designed our boots in four calf widths to cover a large percent of the population. Our Sizing Chart gives the details. We have plans to introduce an Extra-Extra-Wide Calf model this summer to handle us folks who aren't as slim as we used to be!
Click on any of the pictures on this page for a larger "up close" view!