PADDOCK BOOTS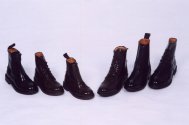 Excellent price points! ..... we trust you will be pleased with the profit potential of our Paddock Boots.
Our family of Paddock Boots covers the complete range of sizes, styles and colors. They are available for Kids, Ladies and Men - with two levels of quality for the Ladies Paddocks!.
The Kids, Ladies and Mens Classic Paddocks are generous through the bridge for the wider foot needs. And our Comfort Insoles provide a comfortable fit for those long days of horse grooming!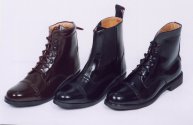 And of course as with all our boots they are constructed using 100% Full Grain Leather uppers and TPR outsoles for durability.
The Lace models all feature Speed Lacing and the Zipped models all have durable YKK zippers.
In addition, the Ladies Paddocks are available in a "Nittany Gold" version. This boot truly must be seen to be appreciated! Nittany Gold Paddocks have a slimmer design using a higher quality leather than our Classic model. They feature additional punch detailing, a padded collar around the top, and waffle bottom soles.
All the Classic Paddocks are in stock, and can be shipped immediately. The Nittany Gold Paddocks currently require a lead time.
Click on any of the pictures on this page for a larger "up close" view!